Yesterday was a good day!!! A great day to be exact. We have had our house on the market due to my husband leaving for the air force (if that is God's will) and me going to join him when the time comes. It has been on the market for about 6 months now. The showings have been dyeing down so my realtor decided to take it off the market and just pop it back in a week later. Well not even ten minutes after doing so (putting it back) we got a showing for tomorrow!! Praise God!! So i spent most of my night cleaning the house and getting it ready for its date ha ha . I ask that you pray that this family is the perfect fit for our home.
Well the was a great start to a great day and then my husband called me to make me aware that they gave him his hours back at work!!! Praise God yet again! A few months back they had cut his pay from salary to hourly and then cut his hours....and now its mostly back ...Amen! Any little bit helps. He had been looking for a part time job and had been unsuccessful at his search .
So today I am just full of praise. On my way to work I started thinking how it was so easy to love God now that things are starting to go a little our way . I had found myself doubting many times during the rough time. I started off really strong in my faith during these hard times, and slowly and slowly it just faded. It got to the point were I would be praying and asking the Lord for renewed faith and during the same prayer my mind would be wondering if anybody was even listening to my prayer. No matter how little my faith got tho , I never ever stopped praying. "God you are either there listening to me or you are not" I would say " If you are ...GREAT ..and if you are not ...then what do i have to loose. The verdict is in however and HE WAS LISTENING.
No matter how bad things got, It was enough for us to handle. You know they say "God never throws anything at you that you cant handle". So far this also has happened to be true. No matter how bad a situation we felt was, we always got through it. Most of the time with the help and support of family and friends and yet again also strangers. This has just been a humbling experience . However this season in our life's is not over yet ...but the clouds have opened up a bit ...and a little sunshine is starting to come in . GOD IS GOOD!!!
I leave you with a picture of Brody eating spaghetti. I am one of those moms that don't mind messes...If a) It is helping them to be more independent b) I need them to stay occupied doing whatever they are doing so i can get the dishwasher loaded or laundry folded without little wondering hands c)They are having just pure fun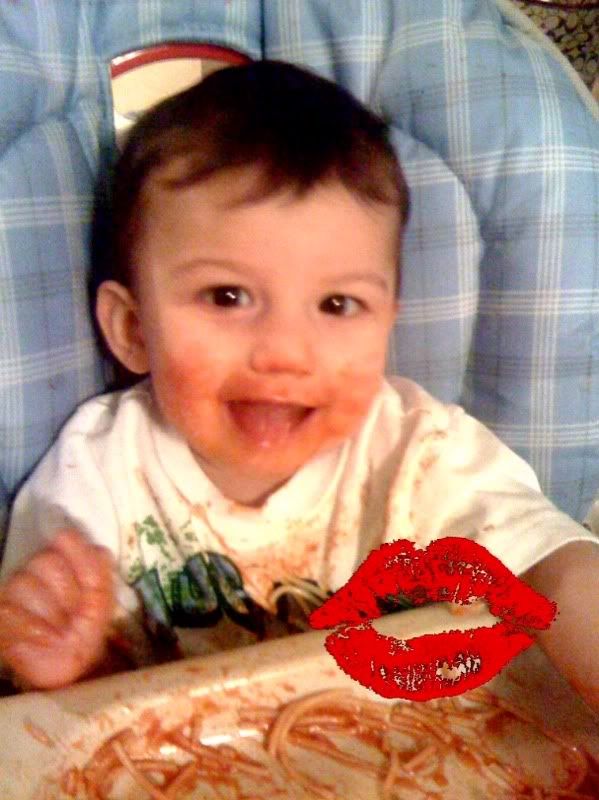 Brody learning to be a little independent...learning ....